Listen to our customers' voice / Analyze customers' needs / Solve customers' problems / Improve machine application / Reform industry status.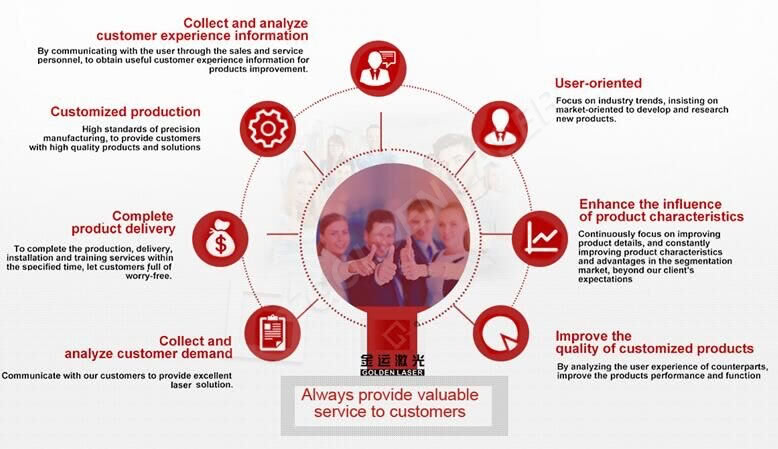 Vtop laser not only pursues excellent product quality, and follows the "Customer First, Sincere Service" service spirit, adheres to the "High positioning, High Quality, High Efficiency," service standards, The pre-sale, sale and after service are all throughout the product life, and strive to create more added value for the customer, and become the ideal brand customers wanted.
Pre-sale Service
Providing technical consult: Golden laser will respond promptly to all customers' inquiry and provide all kinds of production process solution, technical advice of laser equipment, sampling, equipment selection, technical and price consulting services.
Providing comfortable reception: we welcome customers to visit our company anytime and anywhere, and provide food, accommodation, transportation and other any convenience services.
Service in sale
Examine the installation environment for the customer, and provide the equipment floor space in the contract within 7 working days and make sure that the installation space meets machine installation requirements.
We guarantee that we will strictly comply with the terms of the contract punctuality, and ensure its quality and quantity. Vtop engineer will have comprehensive training about the machine installation, control system, operation, debugging and maintenance in customer site. The training includes:
Awareness of laser safety and protection; basic principle of laser equipment; equipment system composition, equipment operation and precautions.
Equipment routine maintenance, laser source adjustment, spare parts replacement operation skills.
The using of equipment operation software and metal nesting software.
Advanced cutting process and method.

New material process testing method.
Common hardware troubleshooting methods.
The machine installation and training are not less than 7 working days until the customer can operate the machine independently and master the testing method for new material cutting process.
After-sale Service
We set up a 24-hour global service hotline: 400-100-4906, and respond to customer feedback in time.
VTOP LASER solemn commitment:
The machine free warranty period is one year and life-long maintenance.
We promise to solve customer problems quickly, provide door-to-door service and machine maintenance in 24-hour.
Customer can come to our company at anytime for free technical training.
If the machine is out-of-warranty, our company still provides extensive and favorable technical support and spare parts supply for users.
Enjoy free software upgrades.