Cnc Fiber Laser Metal Cutting Machine For Round,Square Tube / Pipe
Machine Details
Material & Industry Application
Machine Technical Parameters
Product Tag
                 Cnc Fiber Laser Metal Cutting Machine For Round,Square Tube / Pipe P2060A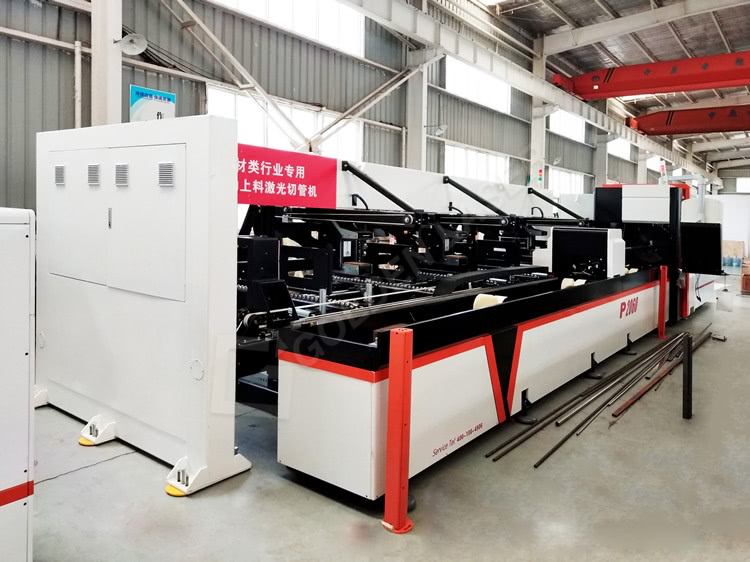 Machine Details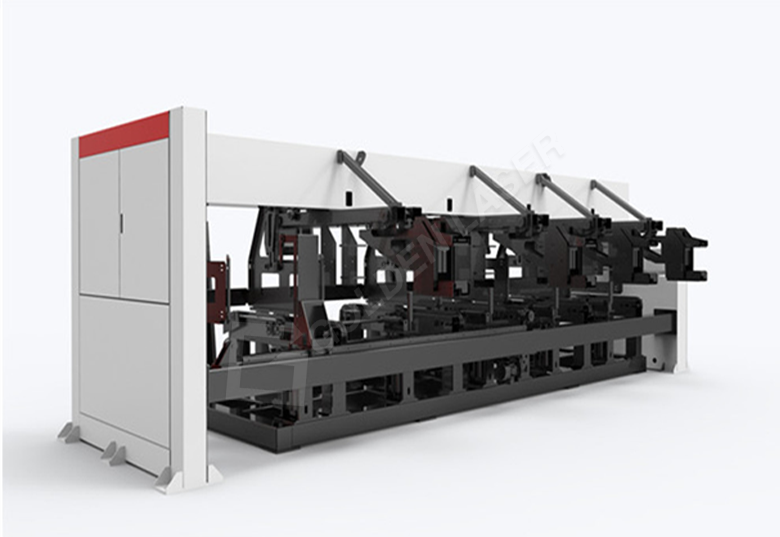 Automatic Bundle Loader Features
Automatic bundle loader for option which saves labor and loading time, achieve mass production purpose.
Round pipe,rectangular pipe and other pipes can be fully automated loading, without human intervention.
Other shapes pipecan be semi-automatic feeding artificially.Max Loading Bundle 800*800mm.
Max Loading Bundle Weight 2500kg.
The tape support frame for easy removal.Bundles of tubes lifting automatically.Automatic separation and automatic alignment.Robotic arm stuffing and feeding accurately.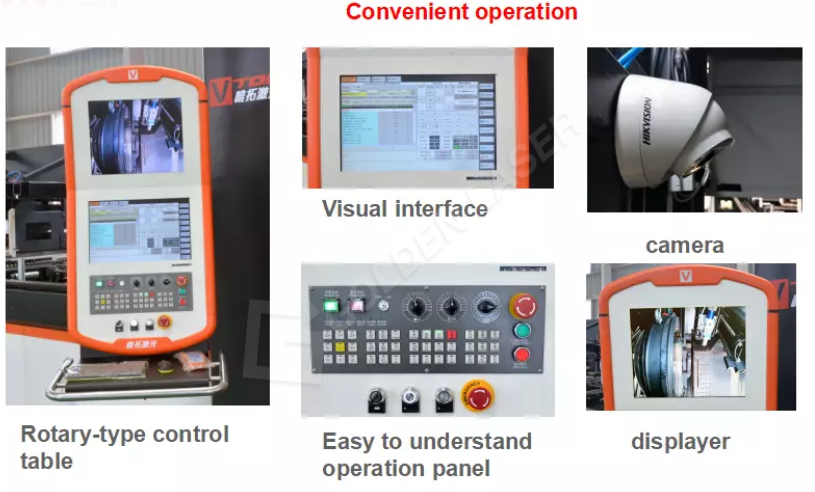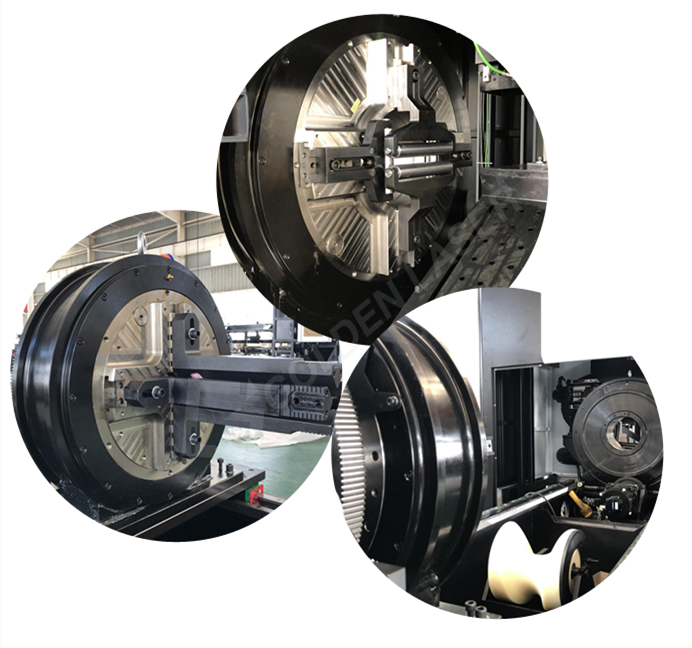 Advanced chuck mounting system
* Double Synchronous Rotation Powerful Chucks: Through the change of gas path, in the place of common-used four-jaws linkage chuck, we optimize into dual claw coordination chuck. Within the scope of the stroke, when cutting tubes in different diameters or shapes, It can be fixed and centered successfully at once, no need to adjust the jaws, easy to switch for different diameters of tube materials , and greatly save installation time.
* Large stroke: Increase the retracting stroke of pneumatic chucks and optimize it to be double-sides moving range of 100mm (50mm on each side); saving loading and fixting time greatly.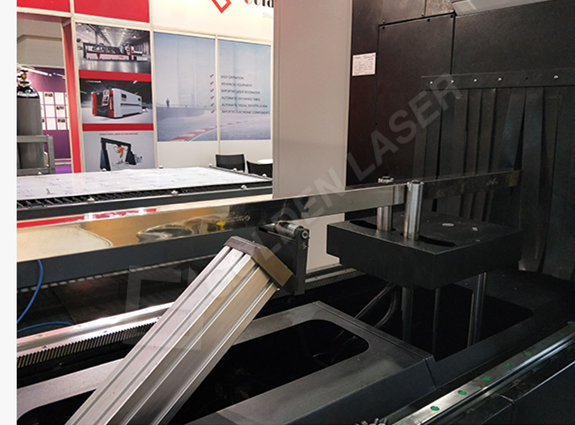 Top material floating support
The height of the support can be automatically adjusted in real time according to the change of the attitude of the pipe, ensuring that the bottom of the pipe is always inseparable from the top of the support shaft, which plays a role in dynamically supporting the pipe.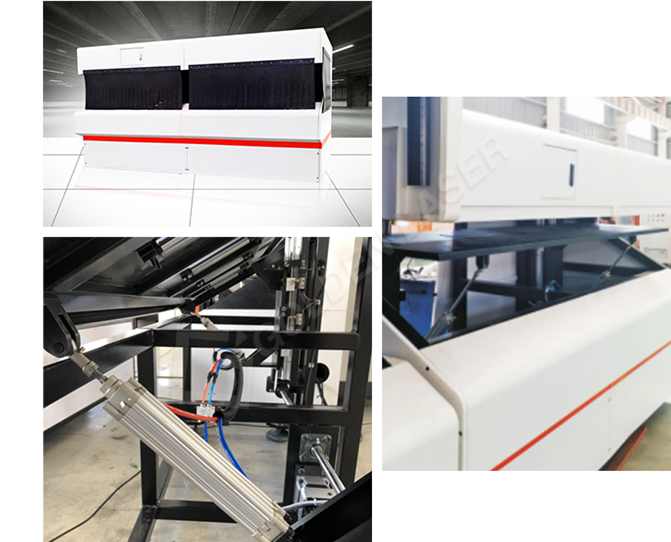 Floating Support / Collecting Device
*Automatic collecting device
*Real-time support
* Prevent pipe whipping
* Guaranteed accuracy and cutting effect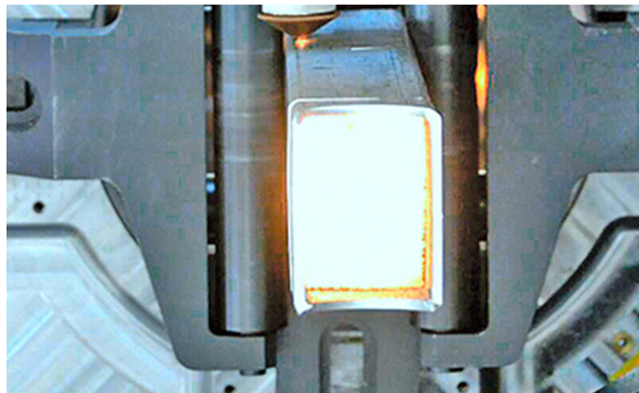 Three-axis linkage
Feeding shaft (X axis)
Chuck rotation axis (W axis)
Cutting head (Z axis)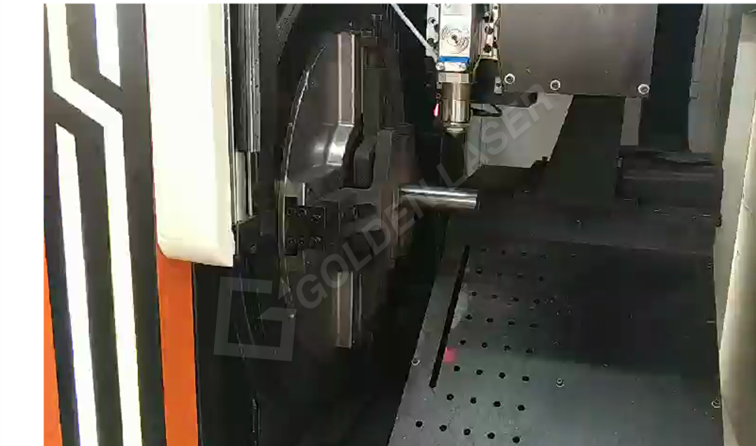 Welding seam recognition
Identify welding Seam,to aviod welding seam during cutting process automatically, and prevent holes from popping

Hardware——wastage
When cutting to the last part of the material, the front chuck is automatically open, and the back chuck jaw passes through the front chuck to reduce the cutting blind area.Tubes with diameters less than 100 mm and wastage materials at 50-80 mm;Tubes with diameters more than 100 mm and wastage materials at 180-200 mm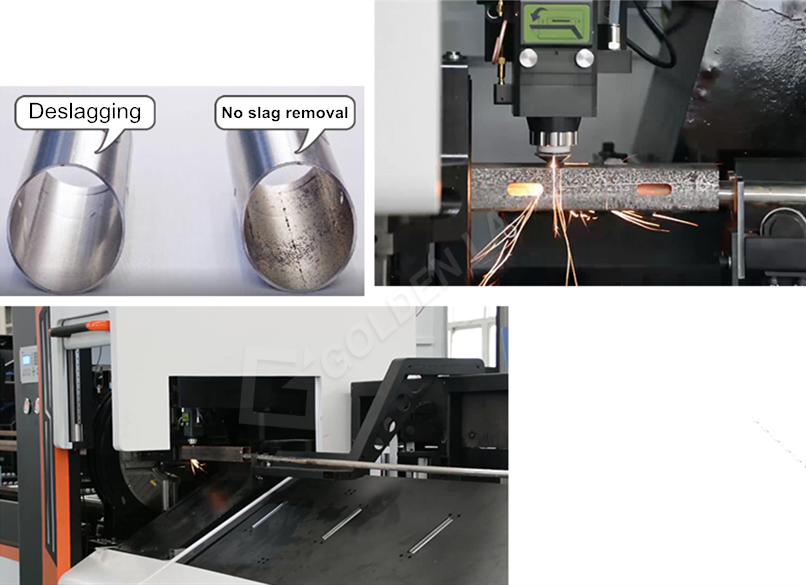 Optional – the third axis cleaning inner wall device
Due to the laser cutting process, the slag will inevitably adhere to the inner wall of the opposite pipe. In particular, some pipes with smaller diameters will have more slag. For some of high applications demands, the third shaft pick-up device can be added to prevent slag from adhering to the inner wall.
Two Sets 1200w P2060A Machine In Mexico Customer Site
Pipe Laser Cutter P2060A Automatic Feeding and Cuitting Process In Mexico Factory
 1500W Pipe Laser Cutter P2060 Fiber Cutting Channel Steel Tube In Taiwan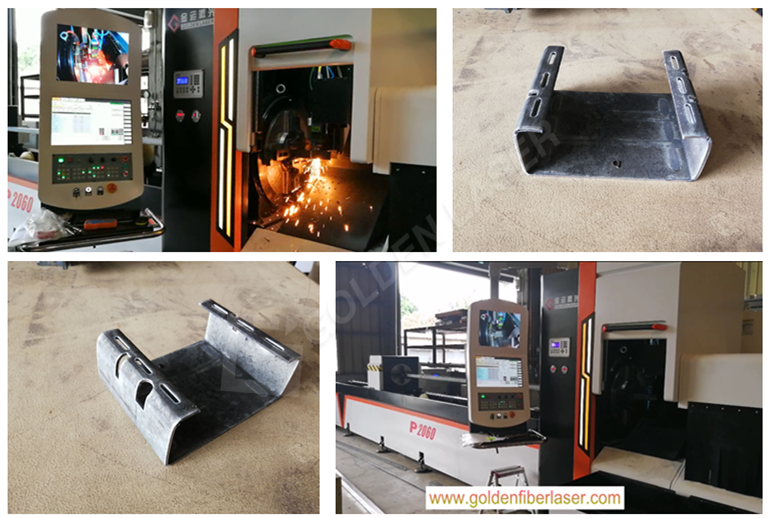 Fiber Laser Cutting Channel Steel Tube In Taiwan Factory
---
---
Application Industry
Mainly used in fitness equipment, office furniture, shelves, steel structure, medical industry, rail rack and other industries for round pipe, square tube, rectangular tube and shaped pipe and other profile processing.
Applicable Materials
Stainless steel, carbon steel, aluminum, brass, copper, galvanized steel,alloy steel.
Applicable Types of Tubes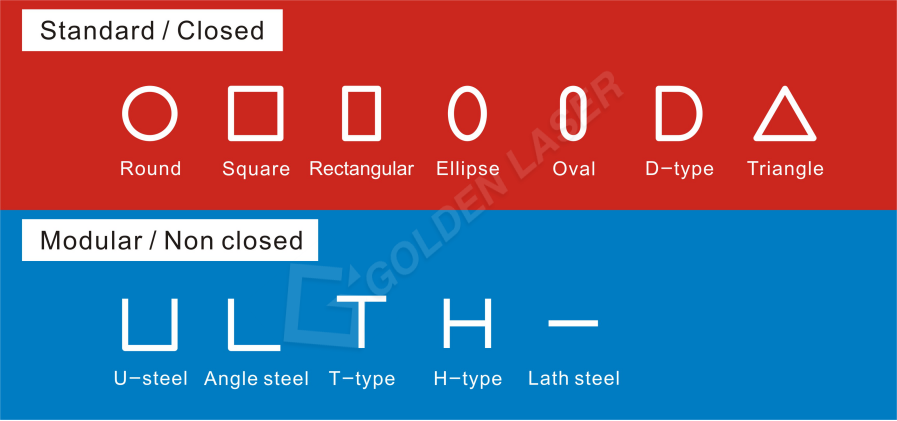 Fiber Laser Cutting Machine For Cutting Mass Production Of Metal Tubes In Our Customer Site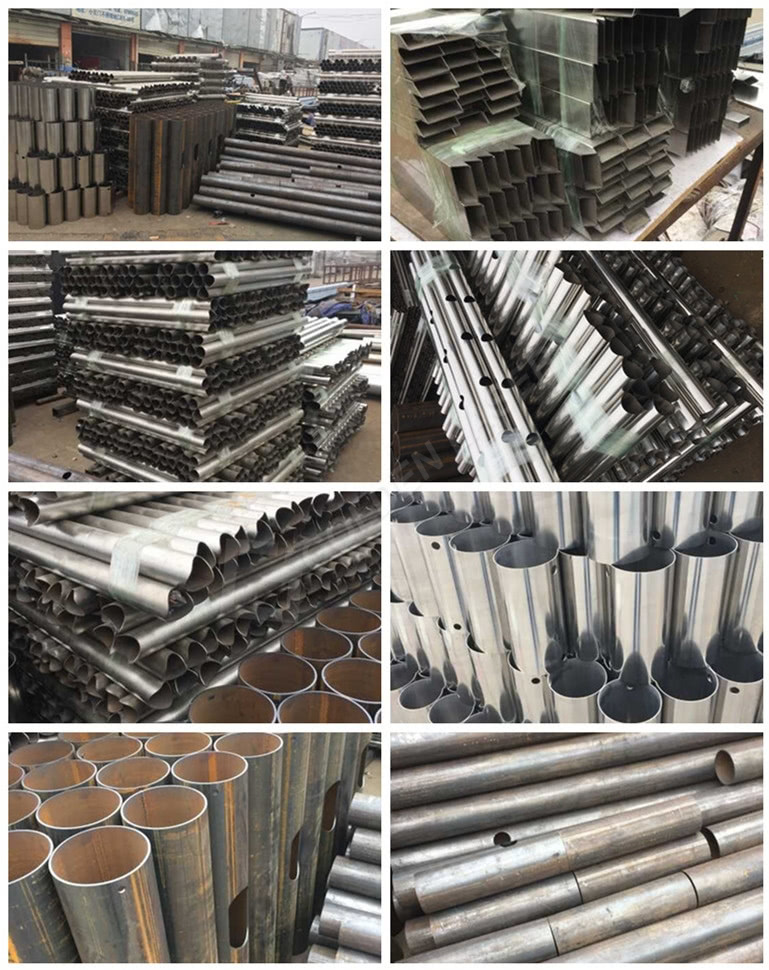 CNC Fiber Laser Metal Tube Cutting Machine For Round, Square , Rectangular Pipe
Model number
P2060A
Laser power
1000w / 1500w / 2000w / 2500w / 3000w / 4000w
Laser source
IPG / nLight fiber laser resonator
Tube length
6000mm
Tube diameter
20mm-200mm
Tube type
Round, square, rectangular, oval, OB-type, C-type, D-type,triangle, etc (standard);
Angle steel, channel steel, H-shape steel, L-shape steel, etc (option)
Repeat position accuracy
± 0.03mm
Position accuracy
± 0.05mm
Position speed
Max 90m/min
Chuck rotate speed
Max 105r/min
Acceleration
1.2g
Graphic format
Solidworks, Pro/e, UG, IGS
Bundle size
800mm*800mm*6000mm
Bundle weight
Max 2500kg
Other Related Professional Pipe Laser Cutting Machine With Automatic Bundle Loader
Model number
P3060
P3080 / P3080A
P30120
Pipe processing length
6m
8m
12m
Pipe processing diameter
Φ20mm-200mm
Φ20mm-300mm
Φ20mm-300mm
Applicable types of pipes
Round, square, rectangular, oval, OB-type, C-type, D-type,triangle, etc (standard);
Angle steel, channel steel, H-shape steel, L-shape steel, etc (option)
Laser source
IPG/N-light fiber laser resonator
Laser power
700W/1000W/1200W/2000W/2500W/3000W/4000W
P2060A Machine Collocation
| | |
| --- | --- |
| Article Name | Brand |
| Fiber laser source | IPG (America) |
| CNC controller | HIGERMAN POWER AUTOMATION (China + Germany) |
| Software | LANTEK FLEX3D (Spain) |
| Servo motor and driver | YASKAWA (Japan) |
| Gear rack | ATLANTA (Germany) |
| Liner guide | REXROTH (Germany) |
| Laser head | RAYTOOLS (Switzerland) |
| Gas proportional valve | SMC (Japan) |
| Main electric components | SCHNEIDER (France) |
| Reduction gear box | APEX (Taiwan) |
| Chiller | TONG FEI (China) |
| Rotate chuck system | GOLDEN LASER |
| Automatic bundle loading system | GOLDEN LASER |
| Automatic unloading system | GOLDEN LASER |
| Stabilizer | JUN WEN (China) |