With the acceleration of the construction of smart cities in various places, traditional fire protection can not meet the fire protection needs of smart cities, and intelligent fire protection that fully utilizes internet of things technology to meet the "automation" requirements of fire prevention and control has emerged. The construction of smart fire protection has received great attention and support from the country to the localities and departments.
Fire safety construction is about everyone. For the construction of smart cities, fire safety construction is a top priority. How to build an intelligent fire safety system to make it fit the development of smart cities is a problem that city managers must consider.
As we all know, whether it is the smart fire protection industry or the traditional fire protection industry, the most important component of the entire fire protection system is the fire protection pipeline.

One of our customers is the leading company in fire protection and  ONE-STOP service system for fire protection parts to pipe fabrication in Korea,and which is mainly manufacture piping materials, pipe sales, fire sprinkler pipe fabrication, firefighting equipment. In order to increase the production of fire sprinkler pipes, this customer had introduced two Sets 3000w Golden Vtop fully automatic fiber laser tube cutting machine P2060A.
Customer Requirements: Laser marking and cutting on the tubes.

Our Solution: Added a marking system on the automatic bundle loader to complete the marking on the tubes before cutting.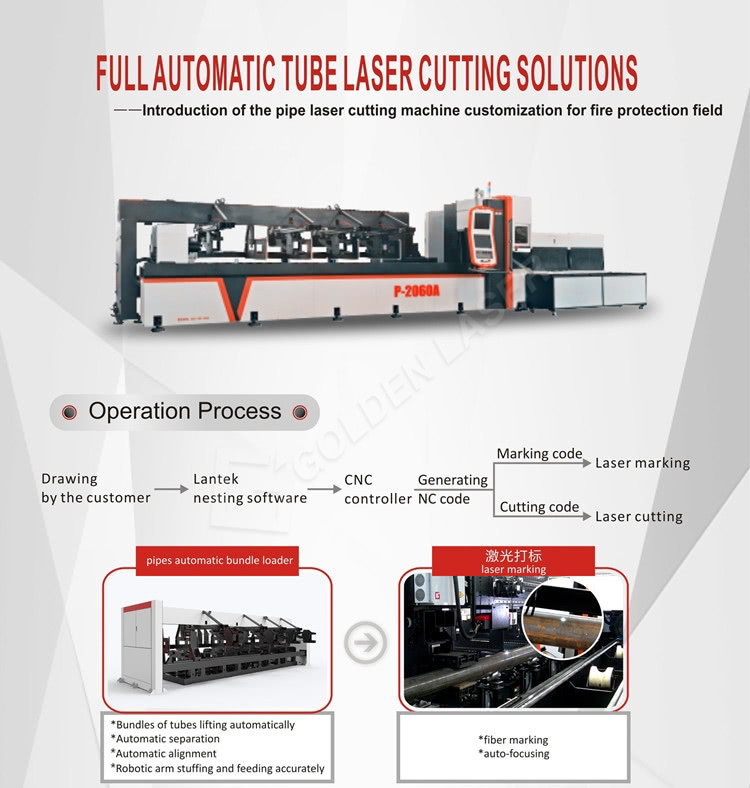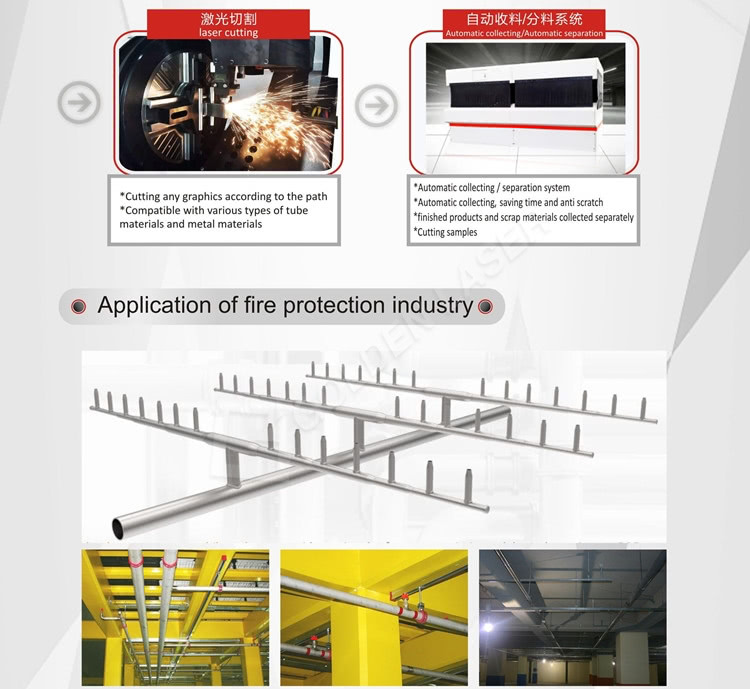 Since the fire protection pipeline is always in a static state, the pipeline requirements are stricter, and the pipeline needs to withstand pressure, corrosion resistance and high temperature resistance. Commonly used fire pipe materials are: spheroidal water supply cast iron pipe, copper pipe, stainless steel pipe, alloy pipe, slotted, punched etc.
P2060A is a professional equipment for cutting pipes. It is cut at one time and has a high degree of automation, which greatly improves production efficiency.
In the firefighting object, the most basic fire extinguishing facility of fire sprinkler system must be composed of pre-fabricated pipe, flexible joint, welded outlet fittings and sprinkler head, and organically combined with cutting, punching and welding to perform its original function.
P2060A automatic laser pipe cutting machine is a high-end laser cutting tube special equipment. It is easy to operate, highly automated, highly precise cutting, and adapted to the needs of large-scale industrial production and many other advanced features, becoming the first choice for equipment tube processing industry. The product has been serialized to meet a variety of different cutting and unloading lengths and cutting requirements for different pipe diameters, thus providing personalized service to more users in the fire protection field.
The metal laser pipe cutter can perform port cutting and pipe surface cutting on metal pipes. It can directly cut round tubes of steel tubes, copper tubes, aluminum tubes, stainless steel industrial tubes, etc.; round tube groove cutting, round tube slotting, round tube punching, round tube cutting pattern etc.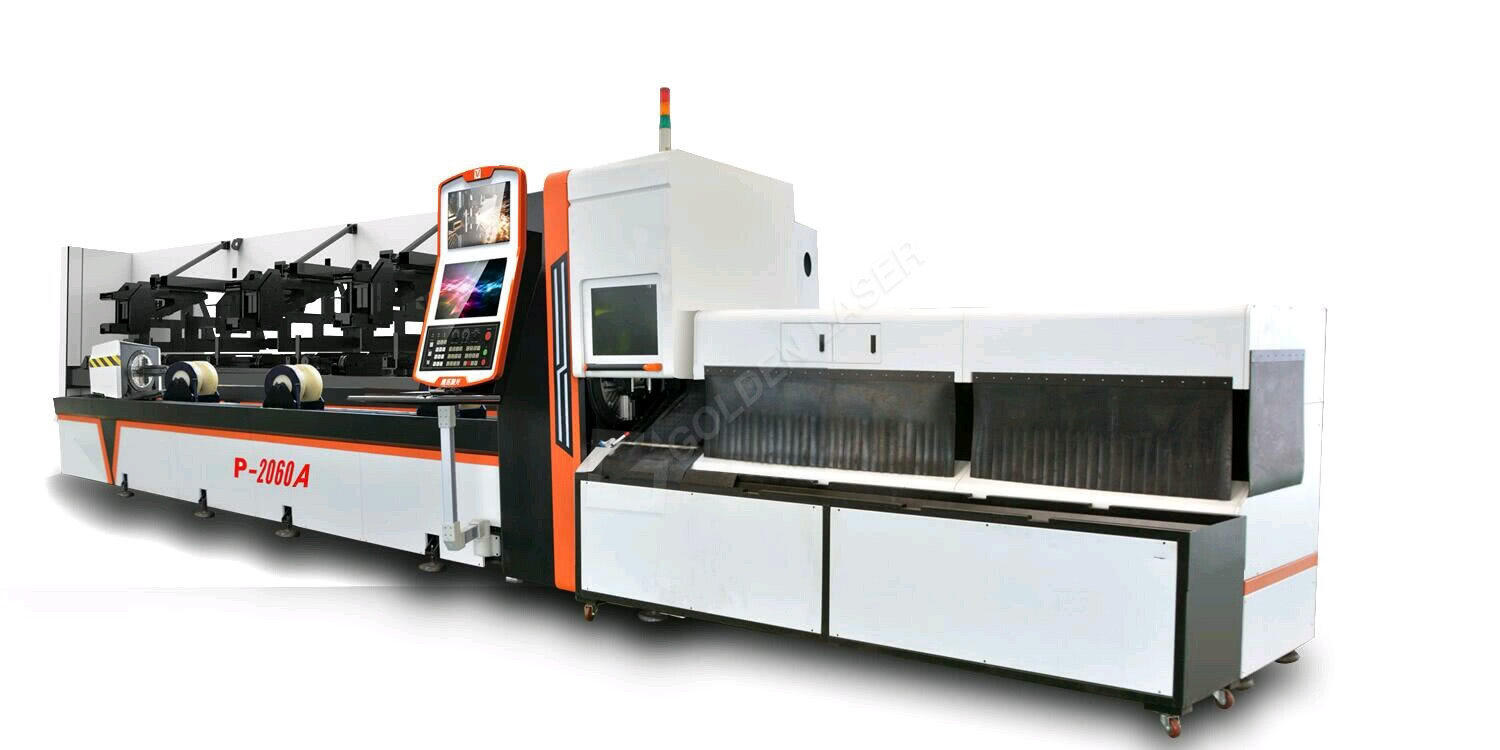 Golden Vtop Pipe Laser Cutter P2060A  Features
Golden Laser tube cutting machine was developed in 2012, in December 2013 the first set of YAG tube cutting machine was sold. In 2014, the tube cutting machine was entered into the fitness/gym equipment industry. In 2015, many fiber laser tube cutting machines was produced and applied in various industries. And now we are always improving and upgrading the tube cutting machine performance.
P2060A 3000w Machine Technical Parameters
Model number
P2060A
Tube/Pipe type
round, square, rectangular, oval, OB-type, D-type, Triangle, etc;
Tube/Pipe type
angle steel, channel steel, H-shape steel, L-shape steel, steel band, etc (for option)
Tube/Pipe length
Max 6m
Tube/Pipe size
Φ20mm-200mm
Tube/Pipe loading weight
Max 25kg/m
Bundle size
Max 800mm*800mm*6000mm
Bundle weight
Max 2500kg
Repeat position accuracy

+

0.03mm
Position accuracy

+

0.05mm
Fiber laser source
3000W
Position speed
Max 90m/min
Chuck rotate speed
Max 105r/min
Acceleration
1.2g
Cut Acceleration
1g
Graphic format
Solidworks, Pro/e, UG, IGS
Electric power supply
AC380V 60Hz 3P
Total power consumption
32KW
P2060A Machine Cutting Samples Demonstration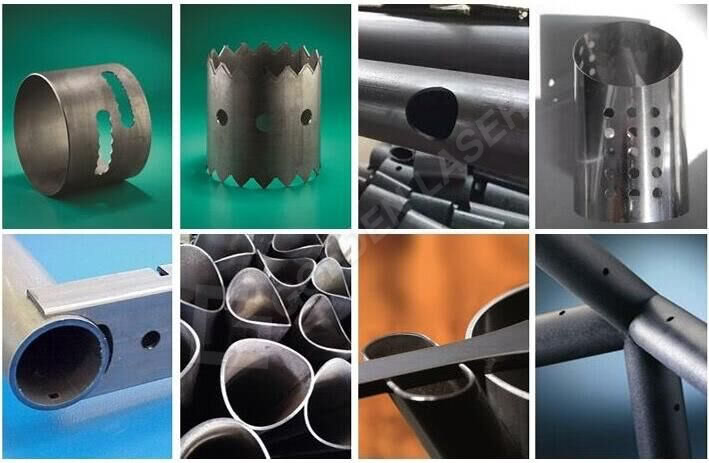 P2060A Machine In The Korea Customer's Factory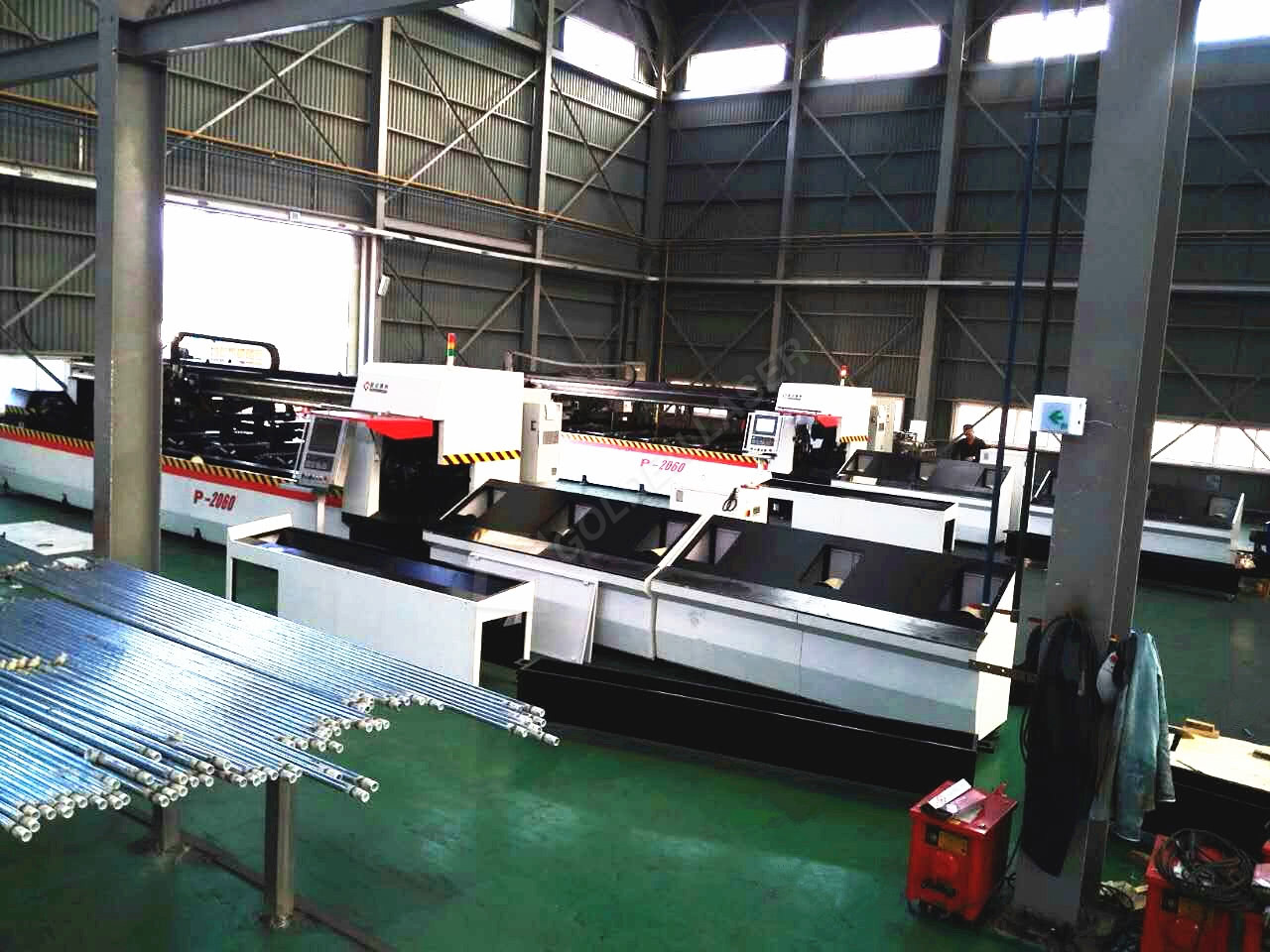 P2060A Machine For Cutting Fire Pipeline Demo Video