Welcome to Golden Laser in the SIMTOS 2022 (Korea Seoul Machine Tool Show). SIMTOS is one of the most famous and professional machine tool exhibitions in Korea and Asia.
This time, we will show our automatic tube laser cutting machine P1260A (good at small tube cutting, suit cutting diameter 20mm-120mm tubes, and cut square tubes from 20mm*20mm-80*80mm) Handheld laser welding machine.
There will be lots of optional functions waiting for you on Booth.: 08E640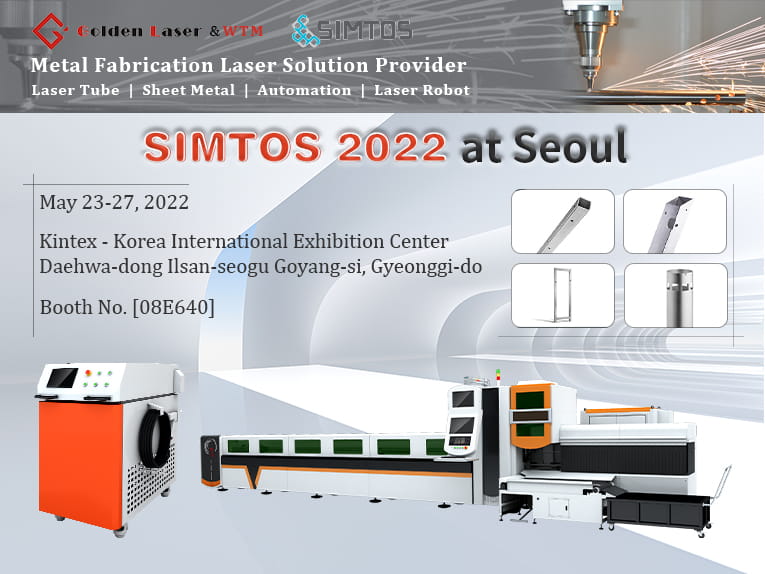 Below is a general view of the SIMTOS, if you are interested.
SIMTOS 2022 is held by the Korea Machine Tool Builders Association, held once every two years, this exhibition will be held on May 23, 2022, at the exhibition venue in Korea - Seoul - Daehwa-dong Ilsan-Seo gu Goyang-si, Gyeonggi-do - Korea International Convention and Exhibition Center, the exhibition area is expected to reach 54,000 square meters, the number of visitors will reach 100,000, and the number of exhibitors and exhibiting brands will reach 800.


Scope of Exhibits
Cutting Machines: Turning Centers (Lathes), Machining Centers (Taping Centers), Milling Machines (Surface Milling Machines), Drilling Machines (Drills), Boring Machines, Grinding Machines (Grinders), Finishing Machines / Grinding Machines / Polishing Machines / Honing Machines, Electric Discharge Machining Machines (EDM, WEDM), Gear Machining Machines (Hobbing Machines), High-Speed Machining Machines / Engraving Machines, Special Purpose Machines, Others (Beveling Machines, Slotting Machines, Small Machines)
Cutting and forming machines: Cutting/shearing machines, bending machines, plasma cutting machines, sewing machines, laser processing machines, water jet processing machines, laser marking machines, servo presses, mechanical presses, hydraulic presses, punching/slotting machines, metal automation equipment/forming machines, metal forming machine parts
Machine tool and automation parts: machine tool units (ATC, APT, turret tool holders, spindle units, XY tables, indexing heads), transmission and drive system parts (LM rolling guides, nuts, ball screws, bearings, couplings, cable chains), electrical and control units (CNC controllers, servo drives/motors, encoders, sensors), machine tool and workpiece fixtures (collets, fixture centers, clamps, vises), cooling and control units (CNC controllers, servo drives/motors, encoders, sensors) fixtures, vises), cooling and hydraulic and pneumatic lubrication components (coolers, skimmers, chillers, filtration systems, pumps)
Tools: Cutting tools, tool holders (multi-tool towers), diamond tools, grinding tools (pads), tool grinders, raw materials, power tools, AC tools, DIY tools, pneumatic tools
Measurement: Measuring/Inspection (measuring instruments, meters, projectors, microscopes, level sensors, hardness testers, scales), machine vision systems
3D printing and materials: metals, fibers, chemicals, ceramics, plastics, fluoroplastics, 3D printers, 3D scanners
Manufacturing automation: integrated automation systems (innovative factory systems, automation system building, consulting), information technology (HML, panels, industrial PCs), control technology (PLC, robot/drive CNC controllers), drive technology (drives, motors, actuators), drive mechanisms (gears, bearings, couplings, ball crews, LM rolling guides, reducers, valves, nozzles) positioning systems (grippers, clamps, feeders), conveyor systems (belts, belts, chains, elevators, hoists), information sensing/transfer systems (counters, timers, relays, sensors, lamps), information recognition technology (barcode scanners, printers, RFID systems, vision cameras), energy supply technology (power supplies, safety switches, inverters, converters), energy-saving technology, industrial communication technology (industrial internet, field bus devices, cables, terminal blocks, connectors), IoT technology, security technology
Manufacturing robots: industrial robots, robot parts, other robot-related equipment
Welding: Welding machines, welding automation, welding materials, welding components or related equipment
Software: CAD (computer-aided design), CAID (computer-aided industrial design), CAM (computer-aided manufacturing), CAE (computer-aided engineering, process analysis), CAE (computer-aided engineering, performance analysis), PLM (product lifecycle management), cloud, big data, ERP (enterprise resource planning)
Finishing: packaging systems, other finishing facilities, associations, publications
Ok, if you are interested in our fiber laser tube cutting machine and handheld laser welding machine, welcome to contact us, our expert will show you more at the SIMTOS 2022 Show.