The 22nd Qingdao International Machine Tool Exhibition was held in Qingdao International Expo Center from July 18 to 22, 2019. Thousands of manufacturers gathered in beautiful Qingdao to jointly write a gorgeous movement of intelligence and black technology.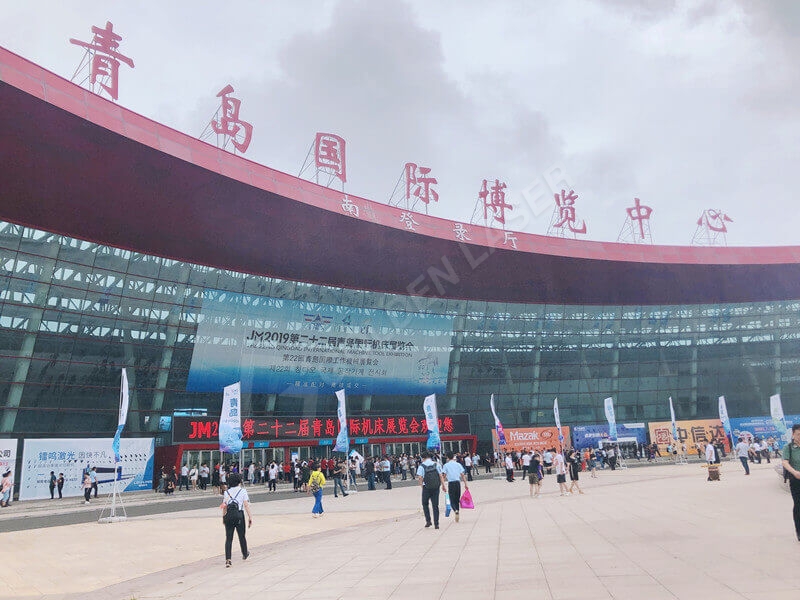 JM JINNUO Machine Tool Exhibition has been successfully held for 21 consecutive years since its inception. It is held in Shandong, Jinan in March, Ningbo in May, Qingdao in August and Shenyang in September. In the industry, the brand advantage has been formed, attracting more than 200,000 customers from home and abroad every year, showing tens of thousands of high-end equipments.
Golden Vtop Laser was invited to participate in this machine tool exhibition. In this unprecedented feast of tens of millions of excellent manufacturers and the world's top technology, Golden Vtop Laser demonstrated the innovation and breakthrough in the laser intelligent manufacturing industry.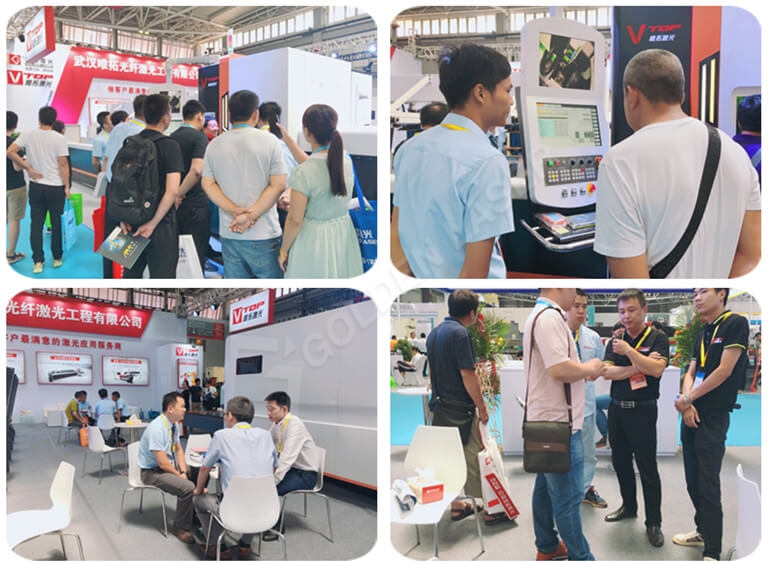 This time, Golden Vtop Laser took the new type full enclosure automatic feeding fiber laser tube cutting machine P2060A , dual table fiber laser sheet cutting machine GF1530JH  and handheld laser welding machine for the exhibition, which attracted many media reporters, exhibitors and many customers to stop and take photos. Golden Vtop Laser briought the latest products, cutting-edge technology and the latest industry trends to exhibitors, customers and visitors. All the exhibitors gathered to inject new life into the transformation of "intelligence".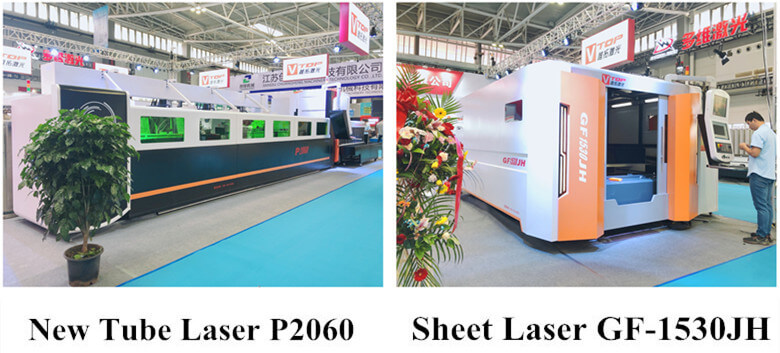 2019 New Type Fully Automatic Bundle Loader Fiber Laser Tube
Cutting Machine P2060A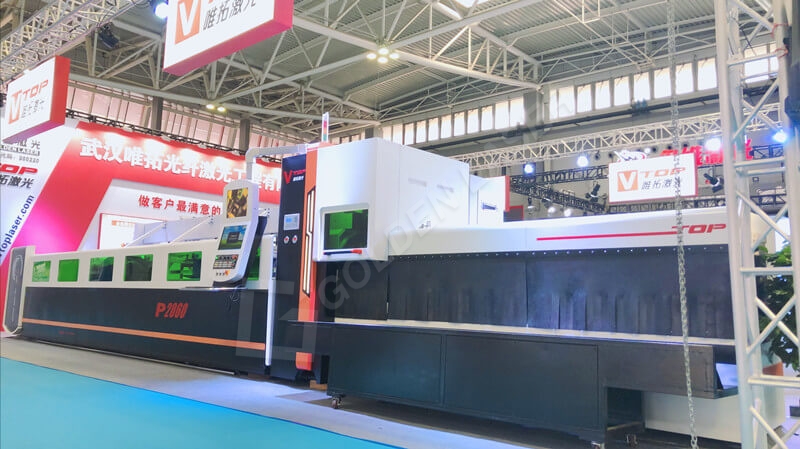 Especially for laser cutting metal tube of round, square, rectangular, triangle, oval, waist tube and other shaped tube & pipe. The tube outer diameter can be 20mm-200mm(20mm-300mm optional), length 6m, 8m. Specially applied to heavy machinery, tubes processing industry etc.
………………………………………………………………………………………………………………………
Model number: P2060A / P2080A / P3080A
Pipe length : 6000mm / 8000mm
Pipe diameter : 20mm-200mm / 30mm-300mm
Loading size : 800mm*800mm*6000mm / 800mm*800mm*8000mm
Laser power : 3000w, 4000w (1000w, 1500w, 2000w, 2500w optional)
Laser source : IPG / nLight fiber laser generator
CNC controller : Germany PA HI8000
Nesting software: Spain Lantek
Applicable tube type : Round tube, square tube, rectangular tube, oval tube, D-type T-shaped H-shaped steel, channel steel, angle steel, etc.
Applicable materials : Stainless steel, mild steel, galvanized, copper, brass, aluminum, etc.
Applicable Industry: Steel structure, heavy machinery, fire fighting, metal racks, tubes processing industry etc.
Fully Automatic Bundle Loader System
Maximum Loading Bundle 800mm×800mm.

Maximum Loading Bundle Weight 2500kg.

The tape support frame for easy removal.

Bundles of tubes lifting automatically.

Automatic separation and automatic alignment.

Robotic arm stuffing and feeding accurately.
 Laser Cutting Tubes Samples Show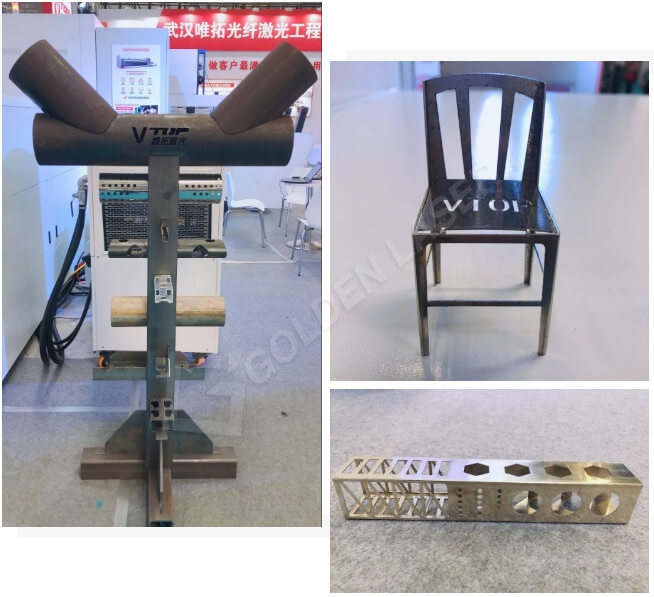 Watch The Video – Laser Tube Cutting Machine P2060A In the
Exhibition
3000w Full Closed Pallet Table Fiber Laser Sheet Cutting Machine
GF-1530JH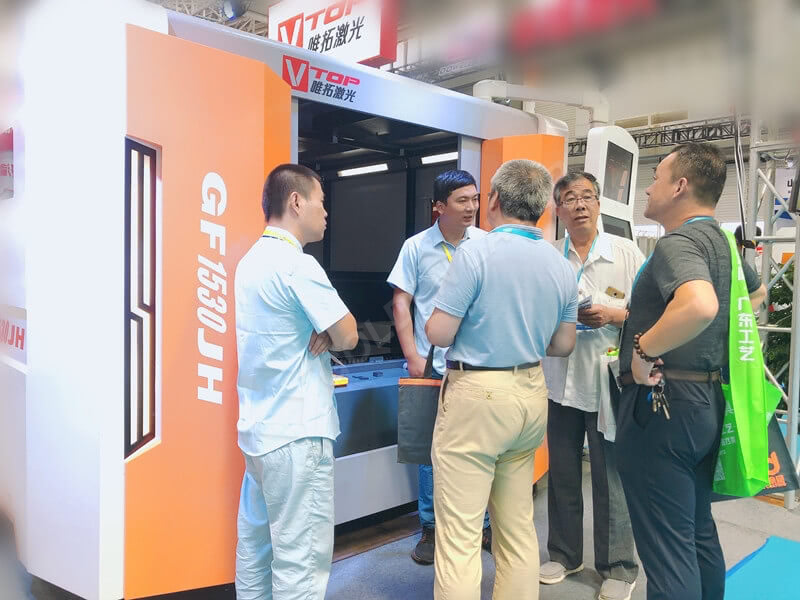 With the standard cutting area 1.5m X 3m (1.5m X 4m, 1.5m X 6m, 2.0m X 4.0m, 2.0m X 6m optional)
3000w can cut 22mm carbon steel,12mm stainless steel,10mm aluminum,8mm brass,6mm copper and 8mm galvanized steel.
……………………………………………………………………………………………………………………………………………………………………………
 Model number: GF-1530JH (GF-1540JH / GF-1560JH / GF-2040JH / GF-2060JH optional)
Laser source: IPG / nLight fiber laser generator
Laser power: 3000w (1000w,1200w,1500w,2000w,2500w, 4000w, 6000w optional)
Laser head: Raytools or Precitec
Cnc controller: Cypcut or Beckhoff controller
Cutting area: 1.5m X 3m, 1.5m X 4m, 1.5m X 6m, 2.0m X 4.0m, 2.0m X 6m.
Max cutting thickness: 22mm CS, 12mm SS, 10mm aluminum, 8mm brass, 6mm copper and 8mm galvanized steel
3000w Fiber Laser Cutting Sheets Samples Show
Watch The Video – 3000w Fiber Laser Cutting 5mm Brass Sheet