1000w 1500w Semi Automatic Stainless Steel Tube Pipe Fiber Laser Cutting Machine
Machine Details
Material & Industry Application
Machine Technical Parameters
Product Tag
Semi Automatic Stainless Steel Tube Pipe Fiber Laser Cutting Machine
1000w Fiber Laser Cutting Ability (metal cutting thickness )
| | | |
| --- | --- | --- |
| Material | Cutting Limit | Clean Cut |
| Carbon steel | 12mm | 10mm |
| Stainless steel | 5mm | 4mm |
| Aluminum | 4mm | 3mm |
| Brass | 4mm | 3mm |
| Copper | 3mm | 2mm |
| Galvanized steel | 3mm | 2mm |
1500w Fiber Laser Cutting Ability (metal cutting thickness )
| | | |
| --- | --- | --- |
| Material | Cutting Limit | Clean Cut |
| Carbon steel | 14mm | 12mm |
| Stainless steel | 6mm | 5mm |
| Aluminum | 5mm | 4mm |
| Brass | 5mm | 4mm |
| Copper | 4mm | 3mm |
| Galvanized steel | 5mm | 4mm |

Golden Laser tube cutting machine P2060 is equipped with a manual loader that presents the tube to the operator who must then place the tube into the machine and manually tighten the chuck.Combining all these processes into one machine saves time and cost when processing tubes in large batches yet the machines versatility allows the user to easily make prototypes or small batch production. This machine also utilizes high speed servos for quick and precise positioning which decreases the time for non value added movements. These High speed servos in conjunction with the powerful fiber laser can decrease part cutting times and increase production allowing for a higher return on investment for the end user. This machine is also equipped with a full enclosure and a safety interlock system to ensure the operator is safe while the machine is active. Golden Laser will provide full service and support for our laser machines, including a full stock of spare parts and components to ensure our customers receive replacement parts quickly and effectively.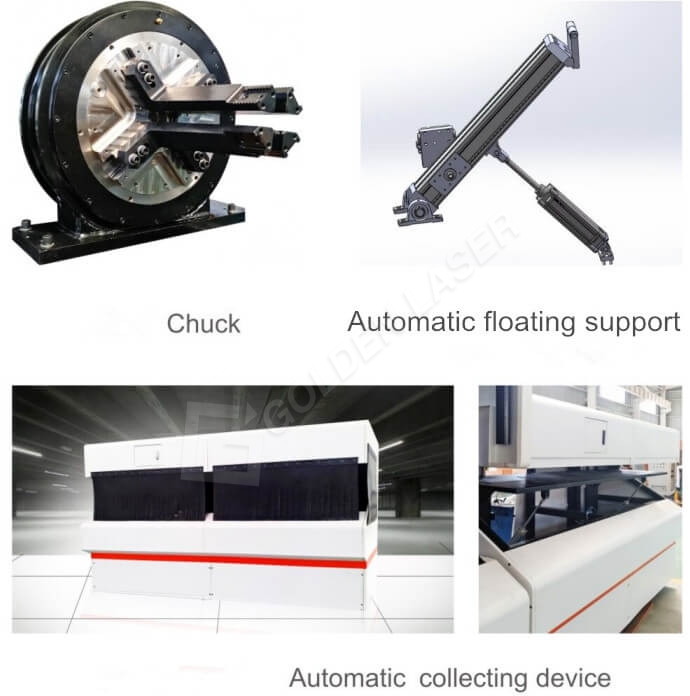 Semi Automatic Tube Laser Cutting Machine Customer Site
Tube Laser Cutting Machine Demo Video
---
---
Applicable Materials
Stainless steel,carbon steel,aluminum,brass,copper,galvanized steel and other metal pipes.
Applicable Industry
Tube Laser Cutter is variantly applicable for wide market segment in automobiles,fan industry,furniture,heavy engineering industry etc.
®Furniture
Chairs, Tables, Cots, Cabinet, TV Stands, TV Antennas.
®Automobile
Handle Bar,Steering Column,Main Beam,Bottom Chassis…
®Transformer
Elliptical and Round Cooling Tubes
®Construction
Scaffoldings & Supporting pipes
®Bicycle
Handle Bar, Top Tube, Bottom Tube, Down Tube, Chain Stay, Back Stay, Stem Tube, Pedail Tube, Seat Pillar, Fork Blade.
®General Engineering
Bus body structures, main beam for pedestal lfans,textile,Frames…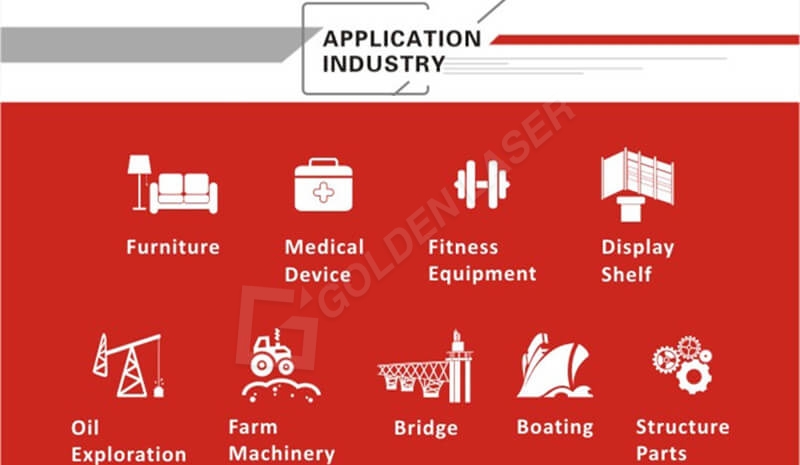 Applicable Types Of Tubes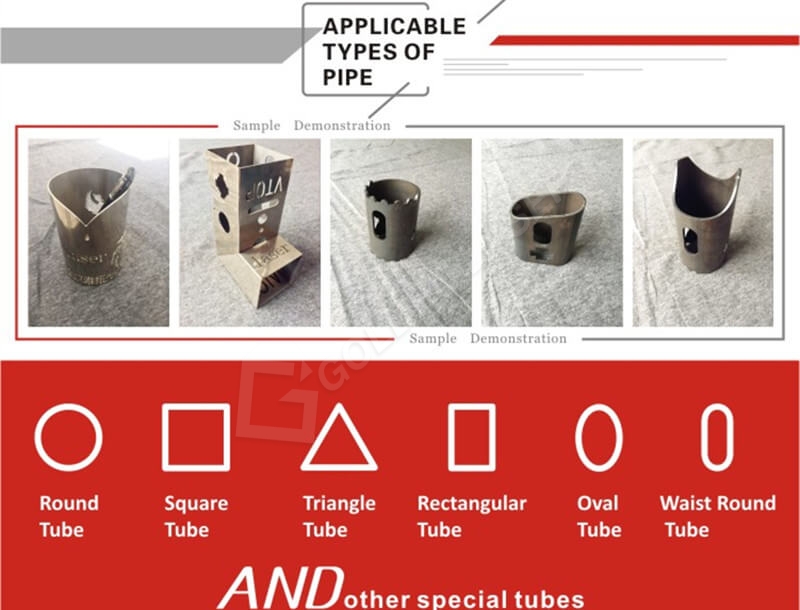 Fiber Laser Cutting Machine For Metal Tubes

Semi Automatic Stainless Steel Metal Tube Pipe CNC Fiber Laser Cutter P2060

| | |
| --- | --- |
| Model number | P2060 / P3060 / P3080 |
| Laser power | 1000w 1500w ( 2000w 2500w 3000w 4000w optional ) |
| Laser source | IPG / nLight fiber laser resonator |
| Tube length | 6000mm / 8000mm |
| Tube diameter | 20mm-200mm / 20mm-300mm |
| Applicable materials | Stainless steel,carbon steel,mild steel,aluminum,brass,copper,galvanized steel |
| Applicable types of tubes | Round tube,square tube,triangle tube,rectangular tube,oval tube and other irregular-shaped tubes etc. |
| Position accuracy | ±0.03mm |
| Repeat position accuracy | ±0.01mm |
| Maximum position speed | 70m/min |
| Acceleration | 1g |
| Cutting speed | depend on material, laser source power |
| Electric power supply | AC380V 50/60Hz |
Other Related Professional Pipe Laser Cutting Machine With Automatic Bundle Loader

Model number

P2060A

P3080A

P30120A

Pipe processing length

6m

8m

12m

Pipe processing diameter

Φ20mm-200mm

Φ20mm-300mm

Φ20mm-300mm

Applicable types of pipes

Round pipe,square pipe,triangle pipe,rectangular pipe,oval pipe and other irregular-shaped pipes etc.

Laser source

IPG/N-light fiber laser resonator

Laser power

700W/1000W/2000W/3000W