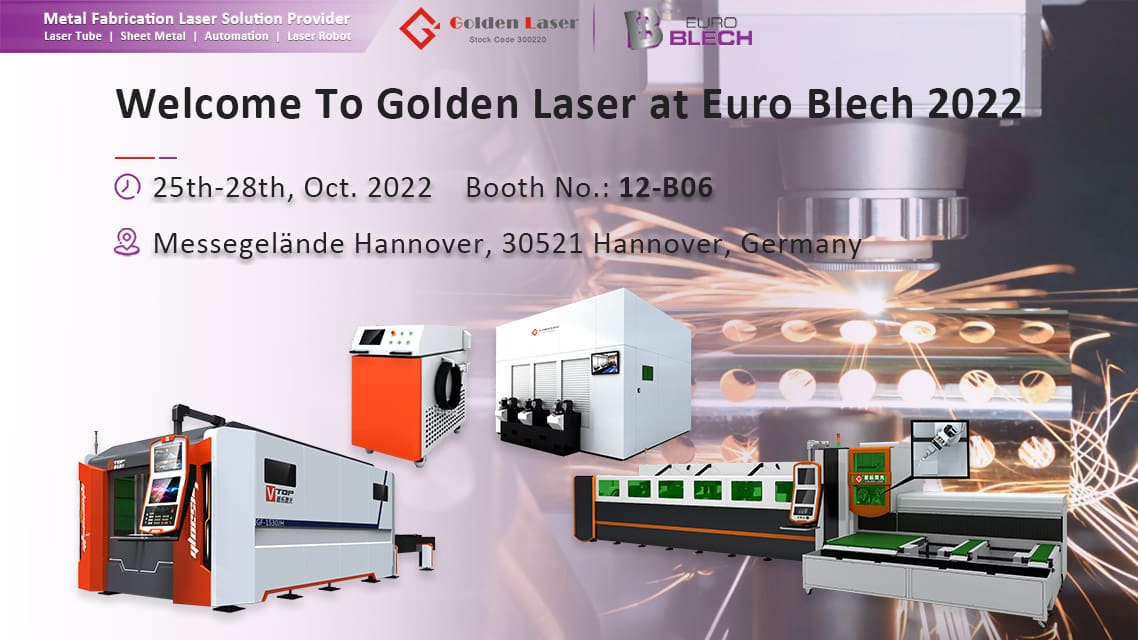 Golden Laser Fiber Laser Cutting Machine Manufacturer welcomes you to visit our booth at the Euro Blech 2022.
It has been 4 years since the last exhibition. We are glad to show you our newest fiber laser technology at this show. EURO BLECH is the world's largest, most professional, and influential trade fair for sheet metal processing in Hannover, Germany.
This time, we will show our Fiber Laser laser cutting machine:
 P2060A -3D  Pipe Laser Cutting Machine (suit cutting diameter 20mm-200mm pipes, with Golden Laser's 3D Laser Cutting Head),
GF-1530 JH (Beckhoff CNC System)
Handheld laser welding machine (Flexible Moving Laser Welding Machine)
Robot laser cutting cell. (Automatic Robot Laser Cutting or Welding Room For Production line)
There will be lots of optional functions waiting for you on Booth.: Hall 12 B06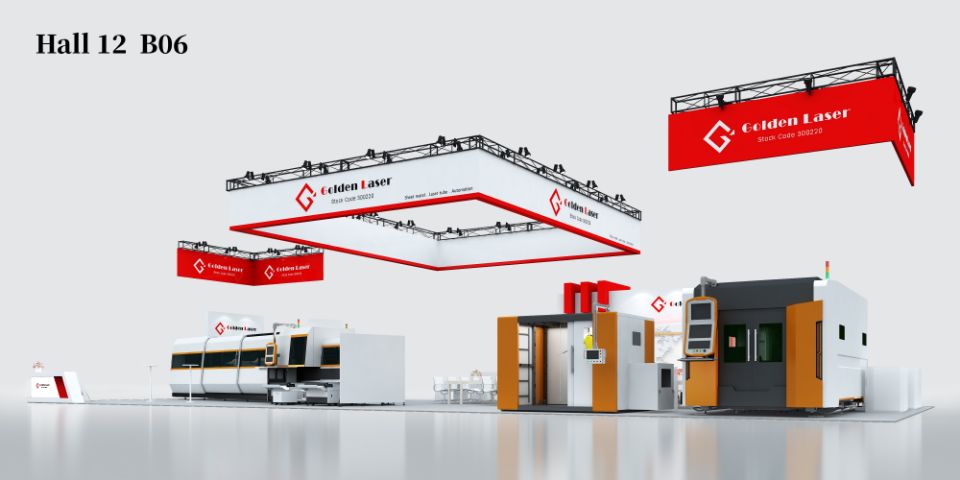 Below is a general view of the Euro Blech, if you are interested.
After more than 40 years of continuous development, it has become the top event and international market for the entire sheet metal processing industry in the world today. The exhibition is held every two years in Hannover, Germany. Since the first session held in 1969, the show has been successfully held for 24 sessions and has become a famous trendsetter in this industry.
Scope of Exhibits
Sheet metal and production equipment:  metal sheets, tubes, and components (ferrous and non-ferrous), finished products, parts, and components; hot rolling mills, cold rolling mills, pickling equipment, hot-dip galvanizing units, electro-tinning units, color-coating equipment, strip production equipment; sheet shearing equipment (shear slitting, winding equipment), cold bending, finishing, roll forming, cutting equipment, packaging, marking machines, etc.
Mill accessories and supporting:  rolls, rubber rolls, mill bearings, etc.; metal heat treatment, metal processing fluid, surface treatment, polishing machinery, abrasives, abrasives, and anti-rust materials.
Sheet metal processing machinery and equipment:  parts, tools, molds of related equipment; various cutting equipment, welding equipment, saw blades; coiling machines, straightening machines, bending machines, shearing machines, shearing machines, stretching machines, punching machines, coiling machines, leveling machines, uncoiling machines, flattening machines, leveling machines; flexible sheet metal processing machinery and equipment; welding and bonding, fastening, pressure processing, punching and perforating equipment, etc.; various machines for metal sheet metal processing machine tools.
Others:  related process control, regulation, measurement, testing technology equipment; quality assurance, CAD/CAM systems, data processing, factory and warehouse equipment, environmental protection and recycling, safety work, research, and development, etc.
Well, if you are interested in the Golden Laser fiber laser cutting machine and laser welding machine, welcome to contact us for a Free Ticket, our expert will show you more at the Euro Blech 2022 Show.