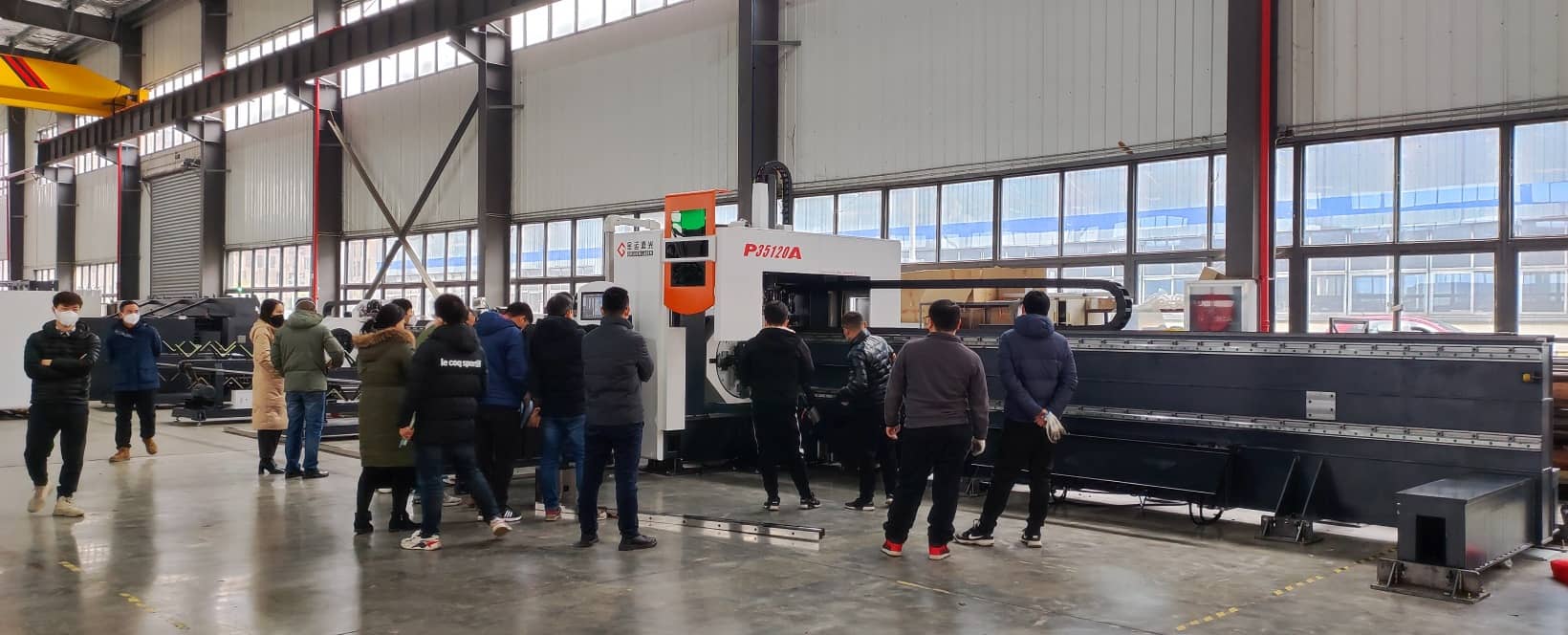 At the end of 2022, Golden Laser laser pipe cutting machine series welcomed a new member - heavy-duty fiber laser pipe cutting machine P35120A
Compared with the large tube cutting machine customized for domestic customers a few years ago, this is an exportable ultra-long laser pipe cutting machine, on a single metal tube cutting length of up to 12 meters, with a 6-meter down loader table. The side-mounted bed structure allows three chucks to move simultaneously.
The automatic avoidance design ensures safe and controlled processing.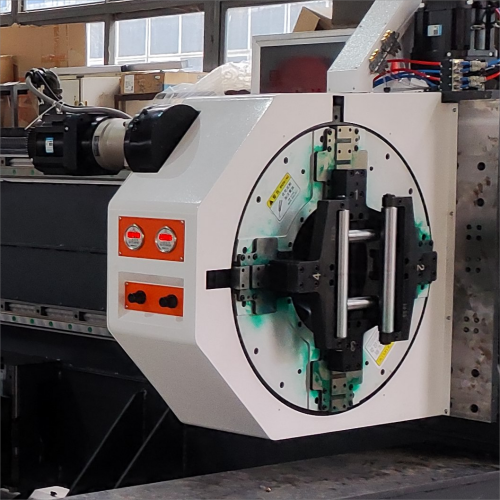 The key point is the 2-in-1 chuck design (Twin Chuck), together with the movable laser cutting head design, the 3-chucks perfectly realize the function of 4-chucks with zero tail material. And it solves the problem of stressing heavy pipe fittings to ensure the accuracy of cutting pipes.
Compared with the traditional 4-chucks pipe cutting machine, this design takes into account the practicality and saves the manufacturing cost and maintenance costs of the equipment.
It can be equipped with an ordinary 2D laser cutting head, a German 3D cutting head, or our self-developed economical 3D laser cutting head to meet different users' cutting needs and budget planning.
The automatic loading part can prepare 5 large heavy tubes at one time, compatible with the round, square, rectangular, channel, I-beam, and other profiles of 350mm outer diameter and 12 meters long. It can cut a single pipe up to 1.2 tons.
The downloading section leaves 6 meters of download space, which is suitable for conventional pipe cutting processing, and long pipe perforation and truncation needs.
For each laser pipe cutting machine, we have a perfect evaluation and quality inspection specifications, and in the process of continuous accumulation of experience, and strive for excellence to provide customers with practical solutions.
To learn more about the industry solutions of laser pipe cutting machine, please contact us.