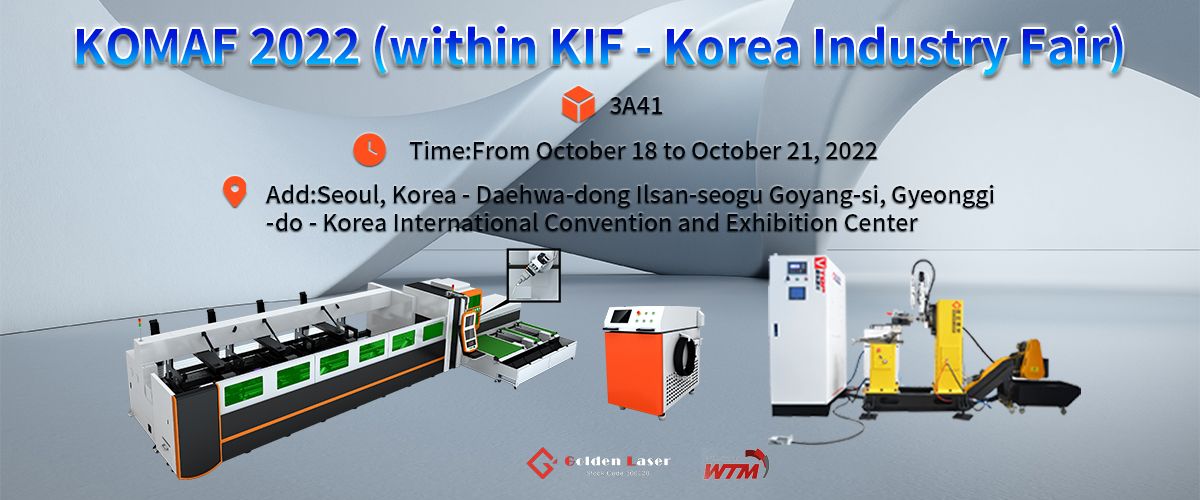 Welcome visit us in Komaf 2022 (within KIF - Korea Industry Fair), 

Booth No.: 3A41 from the 18th to the 21st of October!
DISCOVER OUR LATEST LASER CUTTER SOLUTIONS
1. 

3D Tube Laser Cutting Machine
With LT 3D Rotary Laser head which suits for 30 degrees, 45-degree beveling cutting. Short Your production process, save more time and energy to easily produce highly accurate pipe parts for the metalworking and structure industry.
P3560-3D, Cutting Max diameter Pipe 350mm, 6meter long tube. PA controller, With self-center function. Welding line recognizes and Slag removes function for choice.
2. 

Pipe fitting Laser Cutting Machine
Customized Solutions especially for the pipe fitting industry. After bending then use the rotary cutting method to just cut the end of the pipe fitting (elbows) in a few second, slag removal design ensure a clean-cutting result, which uses reasonable cost to solve the pipe fitting cutting job.
3. 

Hand Held Laser Welding, Cutting, and Cleaning Machine
Portable Handheld laser welding machine with 3 functions for both simple cutting, cleaning, and welding for different metal materials. It is quite useful in metalworking.
Golden Laser glad to meet you at KOMAF 2022, please let me know if you have any demand for metal cutting.
Quick View of KOMAF 2022
Seoul, Korea, Exhibition Time: October 18~October 21, 2022, Exhibition Venue: Seoul, Korea - Daehwa-dong Ilsan-Seo-gu Goyang-si, Gyeonggi-do - Korea International Convention and Exhibition Center,
Organizer: Korea Association of Machinery Industry (KOAMI) Hanover The exhibition cycle: once a year, the exhibition area is expected to reach 100,000 square meters, the number of visitors reaches 100,000, and the number of exhibitors and exhibiting brands reaches 730.
Korea International Machinery Industry Fair KOMAF was founded in 1977, every two years, and hosted by the Korea Association of Industries (KOAMI).
Scope of Exhibits
Power control and industrial automation: motors, reducers, gears, bearings, chains, conveyors, sensors, relays, timers, switches, temperature controllers, pressure regulators, robot systems, etc.
Machine tools and tools: shears, drilling and milling machines, grinding machines, polishing machines, forming equipment, welding equipment, heat treatment equipment, surface treatment equipment, pipe processing equipment, casting and forging equipment, etc.
Hydraulic and pneumatic: compressors, turbines, blowers, pumps, valves and accessories, various hydraulic and pneumatic equipment and accessories, etc.
Industrial parts and materials: metal processing materials, internal combustion engines and power transmission parts, automation parts, machine tools, and tool parts; measurement and measuring equipment
Equipment: power and hydroelectric power plant equipment, petrochemical equipment, shipbuilding equipment, telecommunications, cement, and steel plant equipment.
Environmental technology: Dust recovery equipment, cleaning equipment, ultrasonic cleaning equipment, sewage treatment equipment, sewage pumps and accessories, environmental technology, equipment, and accessories.
Purification: compressors, condensers, air conditioners, air purification equipment, various spare parts, various equipment, and accessories related to energy.
Rubber & Plastic: Plastic injection molding machines, plastic extruders, and other plastic machinery; plastic processing machinery and parts; rubber processing equipment; plastic and rubber raw materials, rubber and plastic products, etc.
Transportation and logistics: hand chain hoists, lifting equipment, winches, sprockets, forklifts, cranes, hoists, conveyors, loading and unloading equipment, storage equipment and facilities, filling, encapsulation, capping and packaging equipment, etc.
Heavy power equipment: generators, transformers, power plant equipment; solar power generation equipment; wind power generation equipment; power-related components.