Your Ideal Automatic Processing of Pipes – Integration of Tube Cutting, Grinding, and Palletizing
With the increasing popularity of automation, there is a growing desire to use a single machine or system to solve a series of steps in the process. Simplify manual operation and improve production and processing efficiency more effectively.
As one of the leading laser machine companies in China, Golden Laser is committed to changing the traditional processing methods with laser technology, saving energy, and increasing efficiency for the metal processing industry.
Today we will share a new set of laser solutions for automated tube processing.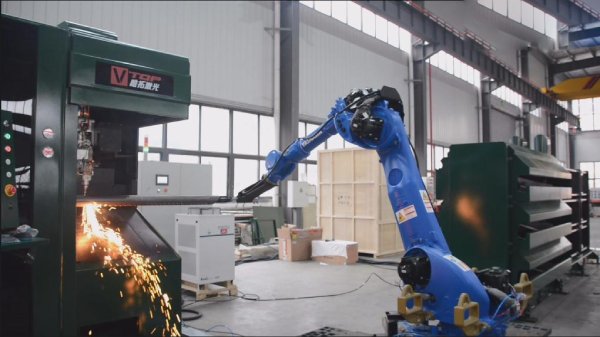 For customers in some industries, not only the needs of pipe drilling and truncation but also strict requirements on the cleanliness of the inner wall of the pipe in practical applications, we have customized this solution for customers who are not satisfied with the conventional slag removal function.
Previously, the customer would use manual grinding for the cut pipes to ensure the cleanliness of the inner wall of the pipe. For some small pipe parts, the manual method is still feasible, but for large and heavy pipes, it is not very easy to handle, sometimes it takes two workers to deal with.
In order to reduce the cost of manual grinding, we have conducted an in-depth analysis and discussion on this customer. The customized pipe inner wall grinding system is perfectly connected to the laser pipe cutting machine, from laser cutting to pipe inner wall grinding to finished product collection, to achieve fully automatic integration. . It greatly improves the processing efficiency of customers and improves the working environment of workers.
The customized pipe inner wall grinding system can efficiently process the inner wall of the pipe, and the grinding degree of the inner wall can also be adjusted according to actual needs. Precise control of costs.
Before Grinding (Polish)                                                                                                                                                                                  After Grinding (Polish)
Robot automatic collection, easystorage of large tubes and heavy tubes. It is convenient to collect finished pipes of different specifications.

In 2022, fiber laser cutting machine is not only a metal cutting tool but also an important part of metal processing automation.
If you also want to customize the metal production line, welcome to contact our laser cutting experts.