What You Should Know Laser Machine Knowledge Before Buying Laser Cutting Machine In One Article
Ok! What is Laser
In short, the laser is the light produced by the excitation of matter. And we can do lots of work with a laser beam. It has been more than 60 years of development till now.
After long historical development of laser technology, the laser can be used in much different industry applications, and one of the most revolution use is for cutting industry, no metal the metal or non-metal industry, laser cutting machine update the traditional cutting method, improve lots of production efficiency for the produce industry, such as garment, textile, carpet, wood, acrylic, advertisement, metalworking, automobile, fitness equipment, and furniture industries.
Laser became one of the best cutting tools cause of its highly precise and high-speed cutting features.
Types of Laser Cutting
Now, we are talking about the type of laser cutting machine in the fabrication industry.
We know the advantage of laser cutting is a high temperature and non-touch cutting method, it won't deform the material by physical extrusion. The cutting edge is sharp and clean easy to make personalized cutting demands than other cutting tools.
So, How Many Types of Laser Cutting?
There are 3 types of laser cutting machines widely used in the fabrication industry.
1. CO2 laser
The laser wave of CO2 laser is 10,600 nm, it is easy to absorb by non-metal materials, such as fabric, polyester, wood, acrylic, and rubber materials. It is an ideal laser source to cut non-metal materials. The CO2 laser source has two kinds of type, one is a Glass tube, the other is a CO2RF metal tube.
The using life of these laser sources is different. Normally a CO2 glass laser tube can use about 3-6 months, after use of it, we have to change the new one. CO2RF metal laser tube will more durable in production, no need for maintenance during the production, after use off the gas, we can recharge for continuous cutting. But the price of the CO2RF metal laser tube is more than ten times that CO2 glass laser tube.
CO2 laser cutting machine has big demand in the different industry, the size of CO2 laser cutting machine is not big, for some small size it is only 300*400mm, right put on your desk for DIY, even a family can afford it.
Of course, the big CO2 laser cutting machine also can reach 3200*8000m for the garment industry, textile industry, and carpet industry.
2. Fiber Laser Cutting
The wave of fiber laser is 1064nm, it is easy to absorb by metal materials, such as carbon steel, stainless steel, aluminum, brass, and so on. Many years ago, fiber laser cutting machine is the most expensive laser cutting machine, the main technology of laser sources is in the USA and Germany company, so the production cost of laser cutting machines mainly depends on the laser source price. But as China's laser technology development, China's original laser source has good performance and much competitive price now. So, the whole price of fiber laser cutting machines is more and more acceptable for the metalworking industry. As the development of more than 10KW laser source come out, the metal cutting industry will have more competitive cutting tools to reduce their production cost.
In order to meet the different metal cutting demands, fiber laser cutting machine also has different types to meet the metal sheet and metal tube cutting demands, Even the shaped tube or automobile spare parts both can cut by a 3D laser cutting machine.
3. YAG laser
Yag laser is a kind of solid laser, 10 years ago, it has a big market as the cheap price and good cutting result on metal materials. But with the development of fiber laser, YAG laser using range is more and more limited in metal cutting.
So, How to Choose a Right Metal Laser Cutting Machine?
1. What's the Thickness of Your Metal Materials and Shapes?
For Metal Sheet, if the thickness is under 1mm, then the above 3 types of laser cutting machine both can meet your cutting demand. From the price facts, the small size CO2 laser cutting machine can meet your demand on a short budget.
If metal sheet thickness is under 50mm, then a fiber laser cutting machine will be the best choice. We can choose the different laser power from 1.5KW, 2kw, 3KW, 4KW, 6KW, 8KW, 12KW …according to the detail thickness range and metal materials type, carbon steel, stainless steel or Aluminum and so on.
For Metal Tube, we'd better choose the production laser tube cutting machine. Current laser tube cutting machine combine lots of function like shape recognize, edge searching, automatic position, and so on.
2.  What's the Size of Metal Materials?
It related to the machine size and effect the whole investment plant when you buy a laser cutting machine. More large metal sheet means more large laser cutting plateform demand, the packing fee and shipping cost both rise accordingly.
Now, fiber laser cutting machine manufacturers also customized a large format laser cutting machine in gantry design, it can be installed on the ground and extention the working area easily. It also save the packing and shipping cost. Maybe this is a new trend of fiber laser cutting machine in Post-epidemic era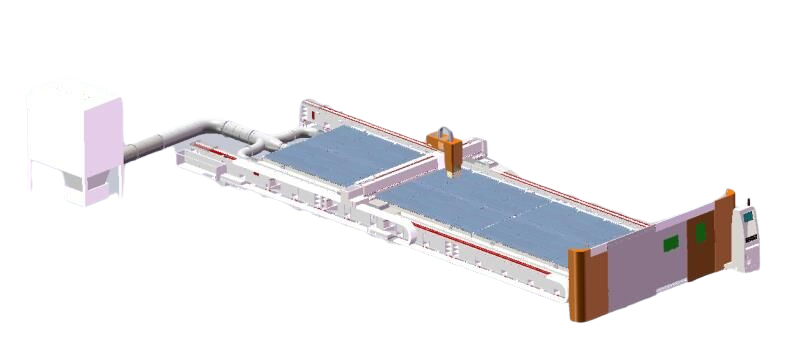 Hope above information can help find your best laser cutting machine.